Description
Ryzen 5600x 6-core, 12-Thread 4.6 GHz
EVGA RTX 3060 12Gg Dual Fan RTX Gaming Ready!
16Gb Ram Hyper X Fury DDR4
WD SN750 1tb NVME 3.47gb/s read 3gb/s write
---
Game with the Best!
6 incredible cores for those who just want to game.
When you have the world's most advanced processor architecture for gamers and content creators, the possibilities are endless. Whether you are playing the latest games, designing the next skyscraper, or crunching data, you need a powerful processor that can handle it all—and more. Hands down, the AMD Ryzen™ 5000 Series desktop processors set the bar for gamers and artists alike.
NVIDIA GeForce RTX 3060 Features
---
The EVGA GeForce RTX 3060 12GB XC cards are designed for players who are ready to step up to a higher tier of performance. Efficiently designed to be cooled with two large fans and protected with an all-metal backplate, the EVGA GeForce RTX 3060 12GB XC is carefully packaged into a short two-slot card for maximum compatibility with all types of gaming cases.
With its efficient, high-performance architecture and the second generation of NVIDIA RTX™, the GeForce RTX 3060 brings amazing hardware ray-tracing capabilities and support for NVIDIA DLSS and other technologies.
The EVGA GeForce RTX 3060 12GB cards provide the choice between maximum performance with flair or more frames per second without pulling any punches. Both cards offer a shorter PCB, dual-slot cooling, and a quiet, zero decibel fan mode. This allows for the EVGA GeForce cards to work with a variety of form-factor builds.
Like all RTX 30 Series GPUs, the RTX 3060 supports the trifecta of GeForce gaming innovations: NVIDIA DLSS, NVIDIA Reflex and NVIDIA Broadcast, which accelerate performance and enhance image quality. Together with real-time ray tracing, these technologies are the foundation of the GeForce gaming platform, which brings unparalleled performance and features to games and gamers everywhere.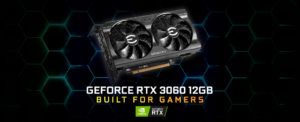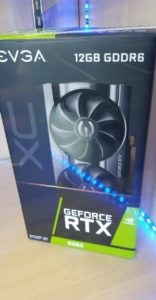 Western Digital SN750 1tb NVME
Sequential Read Performance 3470MB/s    Sequential Write Performance 3000MB/s
Level Up To NVMe SSD Performance
The WD_BLACK™ SN750 NVMe™ SSD delivers top-tier performance for gaming and hardware enthusiasts who are looking to build or upgrade their PC.
Performance Matters
Live life in the fast lane, whether you're looking to boost your system's overall responsiveness or load games and levels quickly, the WD_BLACK™ drive cuts down on your wait time to get back into action and gets you ahead of the game.
Specifications
Sequential Read Performance
Sequential Write Performance